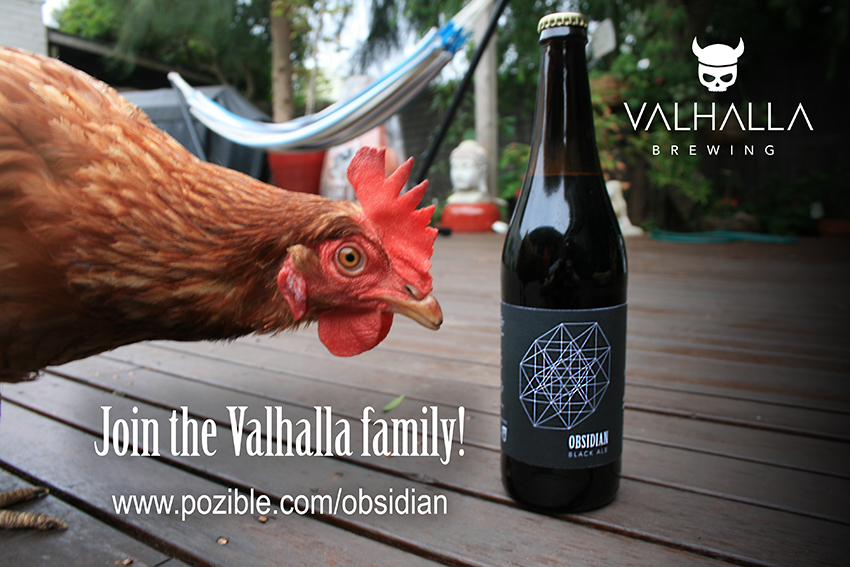 A start up brewery based in Torquay Victoria is harnessing the power of the internet to help launch it's first commercial beer.
Valhalla Brewing has launched a campaign via crowd funding website Pozible to raise funds to brew their first commercial batch of their Obsidian Black Ale.
"Beer should be about people getting together and enjoying each other's company and beautifully made beer," said Scott Hunt, founding director of Valhalla Brewing.
"What better way then to launch our brewery than to reach out to the wider community and ask them to come together and be a part of our brewing family by contributing to the birth of Valhalla," adds Hunt.
Crowd funding is a phenomenon that has seen tens of thousands of projects become a reality through the simple concept that, by connecting to a global audience, if people love what you are creating, they can support you by pledging money.
Pozible, one of the two most popular crowd funding websites in Australia, claims to have funded over ten thousand projects to the value of over $40 million with a success rate of 57%.
"Our campaign reached 40% of its target after just 3 days, so we are very confident of reaching our full target and getting our first batch of Obsidian in local craft beer venues by May this year," said Hunt.
Valhalla Brewing is named after the Norse legend of the great hall of Odin, where great Vikings warriors would go after they die to be reunited with their friends and loved ones. There they would drink ale and celebrate their great battles and achievements.
The philosophy of Valhalla Brewing is simple: Like life, beer is a gift from the gods. The beers made by Valhalla therefore aim to honour that gift by being made with passion, respect and conviction.
Valhalla Brewing's Pozible campaign to launch its Obsidian Black Ale is now live at www.pozible.com/obsidian