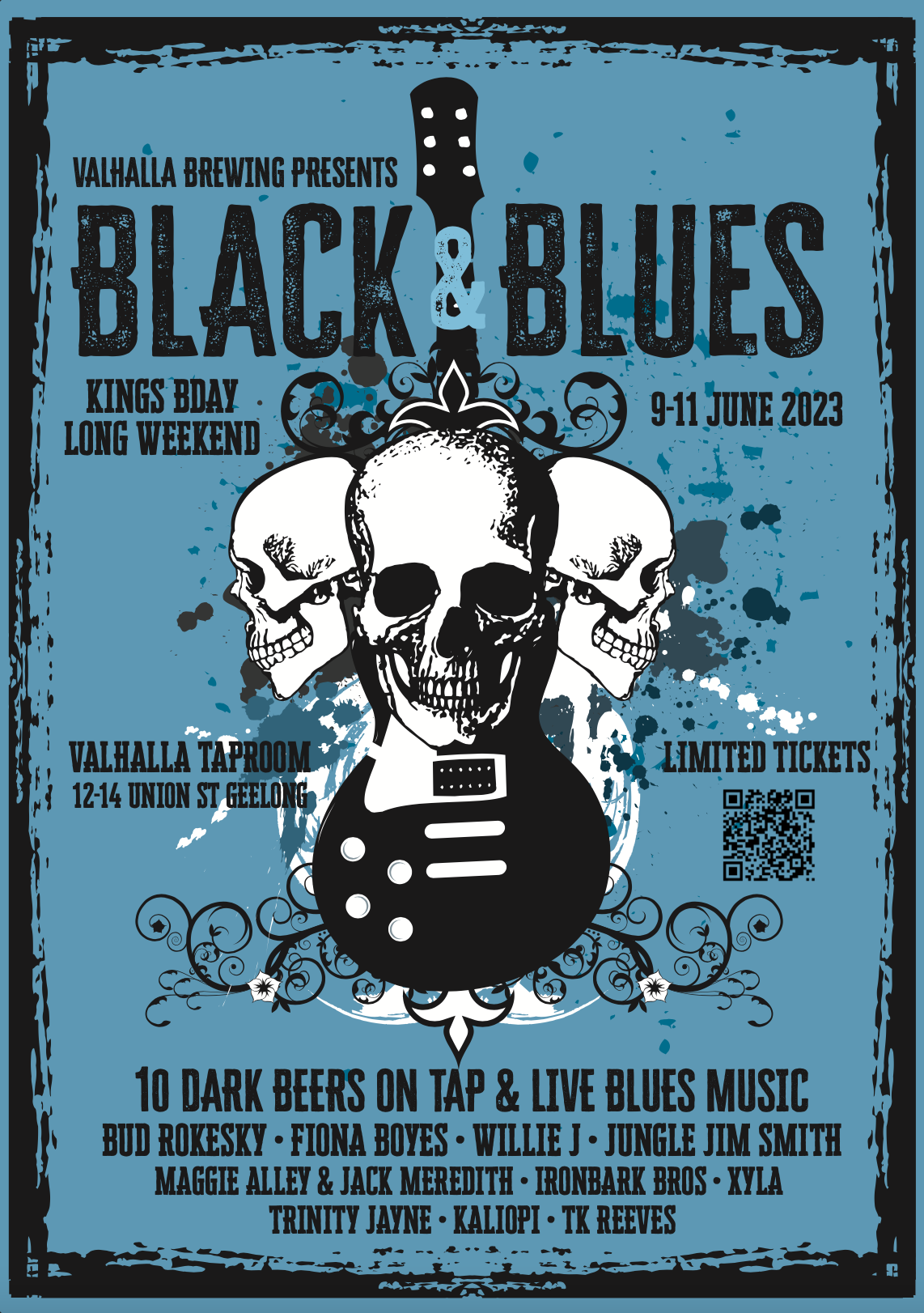 Black & Blues is our annual celebration of dark beers and blues music.
Valhalla Taproom's annual 3-day Black & Blues Festival returns for another year over June 9/10/11! Hosted at our Taproom in the heart of the Geelong CBD, the Black & Blues Festival is a celebration of independent dark beers & live blues music. All 10 taps pour deliciously dark brews accompanied by 10 soul-filling blues musicians, it's a match made in Valhalla. 
We're excited to announce that this years' lineup features 2023/2022 Byron Bay Bluesfest artists Bud Rokesky and Fiona Boyes. Fresh from his 2023 Bluesfest shows and tour with Matt Corby in late May, Bud Rokesky is bringing his heart-on-sleeve stories to the Taproom on Sunday June 11th. Internationally recognised for her deep blues fingerpicking and slide guitar, Fiona Boyes is the only Australian to have been nominated for the USA Blues Music Awards in Memphis and is playing at the Taproom on June 10th. 
Joining these two powerhouse musicians is Willie J, Jungle Jim Smith, Maggie Alley & Jack Meredith (duo), The Ironbark Brothers, TK Reeves, Trinity Jayne, Kaliopi and Xyla. This years lineup is packed full with outstanding talent and unforgettable acts. 
Limited weekend pass tickets are available at $79 which includes access to all 10 live blues acts across the weekend, 10 x 200mL glasses of dark beers & 1 pizza. Tickets will sell out fast so jump on it! 
~ ABOUT THE ARTISTS ~
Bud Rokesky 
Bud Rokesky is used to the isolation of lengthy spells on the road – though born in Brisbane and residing briefly in Rockhampton, from the ages of eight to 17 he lived on a 170-acre property just outside the tiny rural Queensland town of Imbil, population 300. As with the best storytellers, though, Rokesky's songs can be interpreted in many ways, not least because they seek to explore how different people have different takes on the same situation. It's a perspective gained from a lifetime of observing others. "Being an outsider meant I had a lot of free time growing up to question what everyone was doing, or why everyone was doing what they were doing," he explains. "When people listen to the record I'd love for them to hear the beauty in other characters' troubles so that they can think of their own troubles or questions as beautiful. And the fact that we have questions and troubles is beautiful, because we're all here experiencing them."
Fiona Boyes 
Fiona Boyes plays deep Blues, influenced by a myriad of traditional regional styles. She has carved an international reputation as a blues guitarist, bandleader, vocalist and songwriter. International reviewers have described her as a 'musical anomaly' and 'Bonnie Raitt's evil twin'!  A distinctive finger-picking and slide guitarist, Fiona's soulful, authoritative style has earned her unprecedented recognition overseas as an Australian artist. Winner of the International Blues Challenge in Memphis, she has toured widely, performing at acoustic, guitar, jazz, and blues festivals, clubs and cultural centers in more than 20 countries.
Willie J
Willie J heard the blues from a young age. He grew up listening to his parent's record collection–Led Zeppelin, Lynyrd Skynyrd, BB King, Buddy Guy, and classic 70's rock. At the ripe age of 5, Willie J picked up his first guitar, and when he turned 13, Willie J started his first band. Having worked his way through metal and hard rock, he has now returned to his passion, his love of the blues.
During covid 2019, Willie J and the Bad Books were formed. Willie J and the Bad Books are a high energy original blues rock band. Imagine if Lemmy from Motorhead, and Jimi Hendrix met Robert Johnson at the crossroads and started a band… That's what the Bad Books sound like.
As a solo artist, Willie J puts his spin on blues classics–turning it up to 11 with high energy rock and roll, throwing in some original tunes too. His soulful tamber and sickening guitar licks are not to be missed.
Ironbark Brothers
Come see the twin singing hillbilly wonders; the Ironbark's brothers. Raised on country music but growing up in the city, it wasn't long until the allure of guitar picking, harp blowing and yodelling took hold. Self-described as "cheap and available" the Ironbark brothers vow to play for anyone anywhere. Plucking songs from forgotten bush ballads to familiar western tunes, as well as some of their own, steeped in nostalgia and charm.
Jungle Jim Smith
Armed with a 3-string cigar box guitar, bottleneck slide, Strat knockoff and shed-built foot drums, Jungle Jim Smith is a one-man-electric-boogie-band based in the rolling hills of South Gippsland's Prom Country.
Delivering high-energy performances since 2021, Jungle Jim's blend of up-tempo garage grooves and stompin' blues sits somewhere between RL Burnside, early ZZ Top and The Black Keys. Vocals conjuring up shades of Elvis and Morrison croon over primal percussive riffs and rhythms, creating a full band sound described as a 'swampy mix of rockabilly grit and hill country blues'. Delivered with a grin, his songs are charged with infectious hooks and a riffage finesse, charming music fans of all ages and musical tastes.
The debut 7-track EP 'Electric Boogieland' has just been released to an enthusiastic response. Jungle Jim has barely paused though, already laying down demos for a follow up album planned for release later this year.
Maggie Alley
Maggie Alley's songs come from the flawed feminine, her narrative lyrics drawn from experience in the world, absorbed consciously and unconsciously. Alley's two digital EPs (Beasts, and Live at the Brunswick Ballroom) have gained strong community radio and ABC airplay, with devastating vocal performances described as "banshee like". 
ABC Radio compared her to "a young Patti Smith" at just 20.
Drawing inspiration from influences as diverse as Kate Bush, David Bowie, Amy Winehouse, Townes Van Zandt and The Triffids. Her music is infused with something felt, not just heard.
Jack Meredith
Jack Meredith is a singer songwriter and harmonica player from the Bellarine Peninsula. Having spent his early years in the dirt of Melbourne's seaside suburbs as well as the small quiet fishing town of Portarlington, his music echoes experiences of loss, longing and discovery, spanning these worlds. Jack captures the audience with his resonant baritone and a harmonica style that can be both sensitive and driving. Mentored by the great Chris Wilson Jack had the rare opportunity to learn from the very best. With strong roots in blues and folk, Jack's playing is heartfelt and honest.
Trinity Jayne
Trinity Jayne is a poetic singer-songwriter with folk-rock tunes. Her earthy tone combines heart-on-sleeve honesty with blues-rock melodies. Inspired by the likes of Patti Smith and PJ Harvey, Trinity's original music is powerful and moving. 
Having just returned from travels around Australia, Trinity is playing a handful of shows in Victoria before jetting off overseas. Kicking off these shows is her set on Saturday 10th of June at Valhalla's Black & Blues Festival.
TK Reeve
T.K. Reeve plays a blend of traditional blues/partymusic and "modern" sounds with baritone guitars and home-made amps. He first released a single on 7″ (Don't Want Nobody New) in 2016, and did a lot of touring around the east coast in 2017-2018 as a duo with drummer Nathan Power to promote his first self-titled EP (2017).
He released a 7-track EP in 2019 "I Wanna Feel Good" which was nominated for Music Victoria Awards Best Blues Album, which also featured Nathan Power on drums. In May 2022 he released his first full-length album "Pay No Mind", which was recorded live-in-studio with Ben Hendry on drums and Dale Lindrea on bass. Pay No Mind can be found on all streaming platforms
Kaliopi
Kaliopi, is an Australian Blues Artist, guitarist, and singer-songwriter drawing from the great blues tradition and the powerful blues women who made it their own, receiving rave reviews for live shows and recent singles 'When the Levee Breaks' followed with 'Troublin' Blues' with her band Kaliopi & The Blues Messengers.
In between band shows, Kaliopi has been regularly jamming and headlining the Blues Jam Clubs and Association Circuit (including, Melbourne Blues Collective, Blues Roulette, Eastern Blues Association, 90 Miles Blues, Hume Blues Club, Elwood Blues Club, Melbourne Blues Appreciation Society, and Stingoes Blues Jams).
Xyla
XYLA is a singer-songwriter from Naarm/Melbourne. Her captivating sound is driven by powerhouse vocals, clever lyricism and honest storytelling. XYLA's unique vocal tone has been compared to the likes of Amy Whinehouse and Adele, with a delivery that is catchy and quirky. XYLA's songwriting explores navigating life as a twenty-something year old trying to find her place in this world as well as making space for melancholy through reflecting on being a child and the process of growing up.